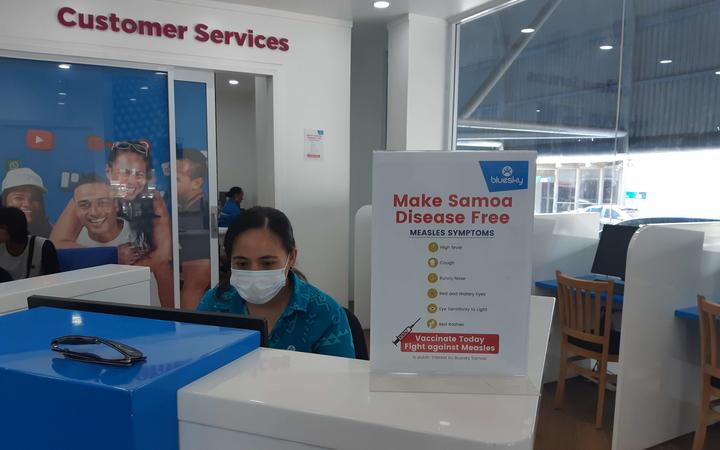 Surgical face masks are now becoming a common sight in the shops and streets of Apia as the community responds to the measles epidemic. - Photo: RNZ Pacific / Jenny Meyer
Samoa's measles epidemic has claimed the lives of 32 people, a sharp increase on a day ago.
All but four of the deaths are children under the age of four.
Since yesterday, 243 cases of the disease have been recorded, with 176 people currently in hospital.
Meanwhile, the government said 24,000 people had so far been immunised in a compulsory mass vaccination campaign launched under a state of emergency.
Yesterday, an investigation was launched after 60 doses had to be destroyed because they were incorrectly stored at an unauthorised private clinic.
Samoa's Director General Of Health, Leausa Dr Take Naseri, initially said 6000 vaccine doses but the ministry has today released a statement attributing that to a "slip of [the] tongue".
A ban on under-19s travelling between the islands of Upolu and Savai'i has been lifted.
Latest update: 2,437 measles cases have been reported since the outbreak with 243 recorded in the last 24 hours. To date, 32 measles related deaths have been recorded. Since the Mass Vaccination Campaign on 20 Nov 2019, the Ministry has successfully vaccinated 24,000 individuals. pic.twitter.com/3QPR6WYHSI

— Government of Samoa (@samoagovt) November 25, 2019