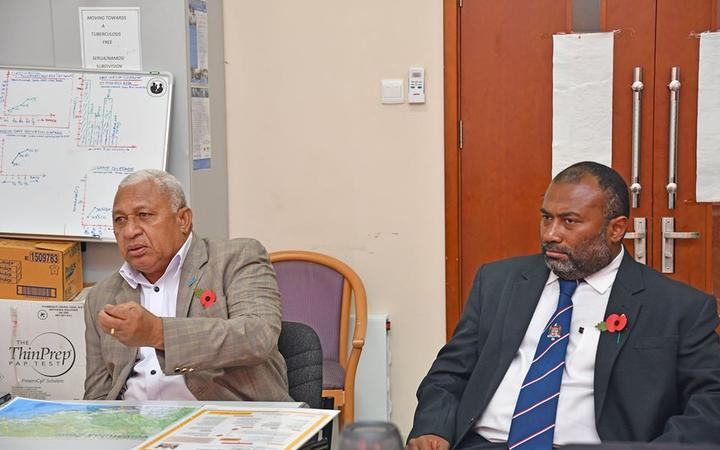 Prime Minister Frank Bainimarama and Health Minister Ifereimi Waqainabete. - Photo: Fiji govt/Facebook
Fijian authorities are warning police will be deployed to quarantine areas if those with measles fail to adhere to health ministry advice.
Medical officials in Navua - one of the affected areas - are concerned people with the disease are not remaining in their homes.
Health Minister Ifereimi Waqaniabete has cited the Public Health Act as a tool that could be invoked to deploy personnel.
There there are now 10 confirmed cases of measles in the country.
The latest measles patient, a pregnant woman, 25, was admitted to Suva hospital on Friday.
Sunil Chandra, from the Ministry of Health, said the woman was the capital's first case.
"It's linked to the place where the outbreak happened. At the moment, there is no outbreak in the capital...we haven't found any other cases."
The ministry said the number of measles cases in Fiji had risen and restrictions had been placed on the limited supply of the vaccine.
It was prioritising the vaccine for those in affected areas, children aged between six months and three years, and those travelling overseas.
Mr Chandra said he could not comment further and referred all further queries to the acting head of health protection in Fiji, Elisha Khan, who could not be reached.
Meanwhile, there have been reports of people being turned away from health centres and clinics.
A health official, who did not want to be named, said the ministry had failed to ensure it had an adequate supply of the vaccine.
A shipment of the vaccine was expected to arrive from India this week, the official said.