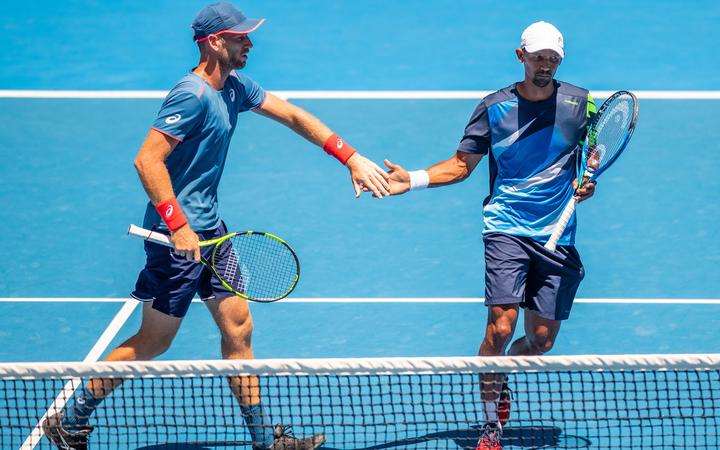 Michael Venus and Raven Klaasen - Photo: Photosport Ltd 2019 www.photosport.nz
New Zealand's Michael Venus and his South African doubles partner Raven Klaasen have finished runners up at the ATP Finals in London.
They've been beaten by Australian Open champions, the French pair of Pierre-Hugues Herbert and Nicolas Mahut 6-3 6-4 in 1 hour 10 minutes.
Venus and Klaasen had their chances particularly against the Mahut serve but in the end came up short on the big points and were let down by some double faults from Klaasen who was broken once in each set.
Venus was in trouble and 15-40 in his opening service game but saved 3 break points to level at 1-1 and then he and Klaasen had 3 break points on Mahut in the next service game.
On the second a Venus backhand volley hit the top of the net and Mahut went on to hold.
That was as close as it got for Venus and Klaasen in the first set.
The South African dished up two double faults in his first service game and Herbert fired a backhand winner past him to break serve.
Games went with serve for the remainder of the set which Mahut and Herbert won it 6-3 in 33 minutes.
Venus saved two break points to hold serve in the opening game of the second set and Mahut saved a break point in the 6th game.
But at 3-3 Klaasen found himself in a spot of trouble at 0-30.
He got back to 30-30 but at 30-40 served a double fault and was broken for the second time in the match as the 8th seeds took control.
Venus held serve for 4-5 but Mahut then served out the match.
Herbert and Mahut have gone one better after finishing runners up last year.
They have gone through the tournament unbeaten and will take home $832,000 between them while Venus and Klaasen share $451,000.
The 32-year-old Kiwi will end the year ranked among the world's top 10 doubles players with his projected ranking to go to nine.
Meanwhile Stefanos Tsitsipas crowned an incredible year as he battled back to beat Austrian Dominic Thiem 6-7(6) 6-2 7-6(4) to win the singles title.
The 21-year-old debutant, the youngest of the eight qualifiers for the elite season-ender, displayed resilience and flair in equal measure to claim his biggest title to date.
Tsitsipas becomes the youngest winner of the tournament since Lleyton Hewitt, aged 20, won it in 2001.