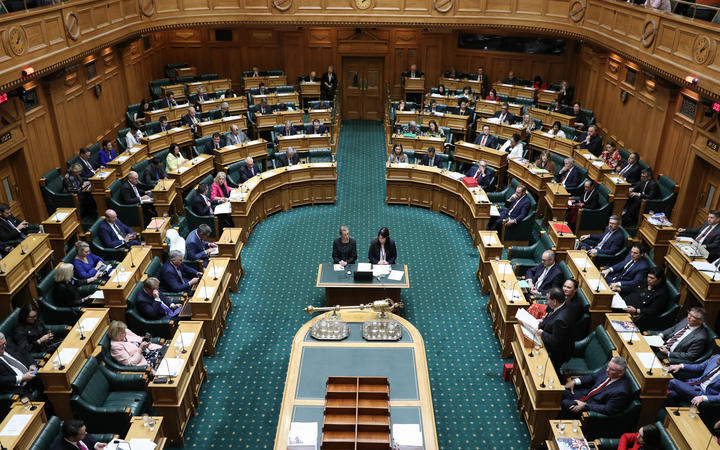 File photo
The Abortion Legislation Bill has passed its first reading in Parliament, after MPs made heartfelt contributions on both sides of the debate.
The Bill - which would remove abortion from the Crimes Act and remove any statutory test for woman seeking an abortion before 20 weeks - had its first reading in Parliament today.
It passed 94 votes to 23 and will now go through to the Select Committee stage.
The Bill would treat abortion as a health issue - after 20 weeks women would require a medical test to access an abortion.
As the newly appointed Labour leader, Jacinda Ardern announced during an election debate she wanted to see abortion removed from the Crimes Act.
Today she told the House that women feel they have to lie to get an abortion in New Zealand right now.
"And if they do tell the truth, then technically under our law they are a criminal. And I don't believe that is right, I fundamentally disagree with that.
"The time is right for us to finally put women's dignity and their rights at the centre of this discussion", she said.
Justice Minister Andrew Little told the House he acknowledged the deeply held political, personal and faith-based views held by MPs across the House, but outlined his reasons for progressing the Bill.
"In my view, it is wrong that our current law characterises a decision a woman wishes to make about her own body and her reproductive choices as criminal.
"And it is wrong in making this decision that a woman has to go through a set of processes that no other person seeking a medical procedure has to go through," he said.
New Zealand First MP Tracey Martin became emotional when she laid out the speech she was going to make on the Bill.
She choked back tears as she told the House she was going to speak about her mother's birth-mother.
"But that story will have to wait because what often happens in this place, Mr Speaker, events have moved on and this speech must change," she said.
Ms Martin worked with the Justice Minister to get the Bill into a position where New Zealand First MPs could support it.
However on Tuesday, Mr Little was blind-sided when NZ First's desire for a referendum on the Bill was raised for the first time.
Ms Martin said she wanted to set the record straight, and told Parliament a referendum had never been raised either in her talks with Mr Little, or by the caucus until their meeting at Parliament on Tuesday morning.
She told the House New Zealand First MPs will support the Bill at first and second readings and then put up an amendment for a referendum.
National MP Agnes Loheni told the House she was standing in opposition to the Bill in order to protect for the life of the unborn child.
She said presenting abortion as a health issue was a hypocritical cover for those who support it.
"As the statistics show, abortion is overwhelmingly not about a mother's health, particularly in the first trimester.
"It is about a decision to terminate a life for life-style reasons. We should as a society have the courage to admit that," Ms Loheni said.
National MP Gerry Brownlee said he opposed the Bill, and raised some concerns about its "extremely liberal nature".
"And those concerns go for example to the possibility of gender selection, which for a lot of cultures in New Zealand will be a reasonable thing to do," he said.
Political parties won't vote as a block, but MPs will vote as individuals according to their conscience.